Fallout From $600 Threesome Dooms Sapp
May 18th, 2015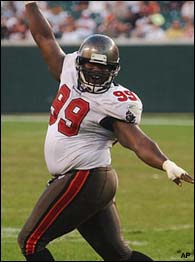 Fired from NFL Network after a $600 threesome landed him in jail, Bucs icon Warren Sapp now has a more soiled criminal record.
The Super Bowl and hookers have been a toxic mix for No. 99.
Per TMZ.com, Sapp will not walk away from charges that got him arrested in Arizona earlier this year.
Now, we've learned Sapp agreed to plead GUILTY to one count of solicitation and one count of assault and in exchange he must complete 2 counseling programs — the first is a "Prostitution Solicitation Diversion Program" … the 2nd is essentially an anger management course.

If Sapp FAILED to complete the prostitution program in 160 days — he faced up to 30 days in jail.

The good news for Warren … he already completed the program and the hooker charge will most likely be dropped.

As for the assault conviction, Warren is still working on completing that counseling program … if he doesn't, he faces 30 days in jail and 2 years probation. But that's probably just a matter of time at this point.
There must have been some telling video, otherwise Joe can't imagine Sapp would have plead guilty to assault. That's really the ugly key here. Joe can't imagine Sapp ever working again in the NFL, at least not for many years.
It'll be interesting to see if Sapp makes what's become an annual visit to Bucs offseason/training camp workouts.