Making Sense Of The Close-Games Theory
July 13th, 2015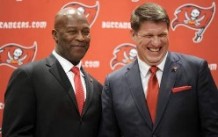 Back in 2009, the Bucs (3-13) lost four games by seven points or less and responded with a thrilling 10-win season in 2010.
Back in 2006, Tampa Bay (4-12) lost three games by seven points or less and took home the NFC South crown in '07.
In 2004, the Bucs (5-11) lost eight games by seven points or less and rebounded to win a division title.
Joe's not seeing any commonality there when it comes to playing close games. All those teams returned the same head coaches the following season. Also, those winning teams in '05, '07 and '10 experienced significant quarterback changes, as will the Bucs this year.
Last season, the wretched 2-14 Bucs dropped eight games by seven points or less, plus one by eight points to Chicago. Lovie Smith and Jason Licht publicly have acknowledged a shred of comfort in knowing their team was so close in so many games.
Joe has maintained that close games are meaningless when it comes to predicting future success. Losing is losing, and collective losing has no silver lining. Frankly, losing a lot of close games usually means some combination of bad coaching, shoddy quarterback play and a defense failing to make splash plays.
Look at Lovie Smith's first Bears team in Chicago. That ugly 2004 club lost 11 games but only three by less than seven points. A year later, Lovie had the Bears at 11-5 and in the playoffs.
Andy Reid took over the Chiefs in 2013, following a two-win season, one in which the Chiefs only had three one-score losses. Reid cranked out 11 wins immediately with Alex Smith at quarterback.
Joe sincerely hopes the we-lost-a-lot-of-close-games chatter ends. It's wasted breath.