Buccaneers' Integrity Questioned
July 13th, 2015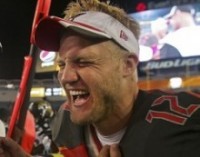 A major sports media outlet is calling out the Bucs and nearly pounding on a table for a league investigation.
Joe finds this downright ludicrous.
Frank Schwab, typing for the popular Shutdown Corner blog on Yahoo! Sports, is in disbelief because the Bucs playing not to win didn't become a major story and cause for national revolution.
In Week 17, Tampa Bay led the New Orleans Saints 20-7 at the half. If the Buccaneers won, the Tennessee Titans would get the top pick of the draft. So the Buccaneers pulled starters.

The Buccaneers said they didn't tank, so everyone shrugged and moved on. There was no 243-page Wells Report on it, although it was pretty obvious what happened and that was not exactly in line with the integrity of the game. …

The NFL made really big deal about the integrity of the game when it came to deflated footballs with another team, but nobody said much about the Buccaneers trying to lose a game. What Tampa Bay did was arguably a worse transgression.
This is so freaking silly.
It's not like the Bucs signed players off the street and injected them into the starting lineup in Week 17, which they very well could have done. Tampa Bay played real men on their roster, and Joe doesn't recall the Bucs taking a knee on any third downs.
They were winning by two scores at halftime!
Playoff teams don't get investigated for sitting starters in Week 17, so why would a bottom-dweller? There is no real difference. Both teams in that scenario intentionally deliver a second-class product to paying fans, gamblers, sponsors and the television audience.
So what that the Bucs sat Vincent Jackson and Mike Evans for about 90 percent of the game.
If there was to be any investigation of the Bucs — and there won't be and shouldn't be — then it should focus on signing Josh McCown to be the starting quarterback. That's the epitome of tanking right there.