"When Are You Going To Get Tired Of Complaining?"
July 13th, 2015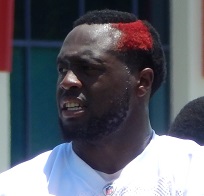 Gerald McCoy either wants a career as the next Tony Robbins, or he's sending backhanded messages to his teammates on Instagram.
Here's the link to see for yourself. It's McCoy's "Motivation Mondays."
McCoy has been very active this offseason on social media, where he's been spinning messages of being sick and tired of losing, and showcasing all kinds of physical work, including attacking pass rush drills while barefoot in the sand in a remote area.
Today, McCoy cranked out a general motivational message that felt like it was meant for his fellow Buccaneers.
"When are you going to get tired of complaining? When are you going to get tired of making excuses? If they don't believe, make them believe!," McCoy bellows on video. "A lot of people claim they want it. Very few people put in the work necessary to get it. Get out there and get it!"
It all sounds nice and, frankly, McCoy motivated Joe to type this post and make another few bucks today. Joe wonders what McCoy would say about a guy claiming he suffered because there wasn't enough time to organize a barbecue.