Josh Freeman Adopts Vincent Jackson Line
July 8th, 2015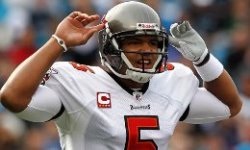 The last Buccaneers quarterback to have a remarkable season, Josh Freeman, is trying hard to shed his leaky, sleepy image while he lurks at the bottom of the Dolphins' offseason roster.
Freeman talked to the Miami official website, and a story today revealed a humble Freeman explaining his "beginner's mentality" approach to the game. It was a phrase he repeated multiple times.
That's hardly a very common phrase, and it reminded Joe of the other quiet guy who used that exact lingo to counsel and mentor young Buccaneers. That would be Vincent Jackson.
It's Jackson who takes all kinds of written notes in meetings and approaches practices with a stern focus on fundamentals.
As Freeman tries to rehabilitate his career, Joe wonders whether Freeman has sought counsel from guys like Jackson, Earnest Graham, Cadillac Williams, Davin Joseph and other elite-work-ethic Bucs he worked closely with in years past.
Joe wishes Freeman well.