Ex-Linebackers Coach Roasts Bucs LBs
June 15th, 2015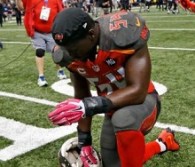 Jameis Winston euphoria aside, these are tough times for Bucs fans listening to knowledgeable national media talk about their team.
After an offseason of the Bucs being dubbed a Super Bowl contender by guys like Herm Edwards and Peter King, the Bucs are taking a beating a calendar year later. And Joe's not just talking about Booger McFarland.
The prominent media guy who was an assistant linebackers coach under Monte Kiffin in New York, Pat Kirwan, knows plenty about Tampa-2 defense. The former Bucs scout and Jets personnel man now breaks down all things NFL for CBS and SiriusXM NFL Radio.
He and Movin' The Chains co-host Jim Miller, the former NFL quarterback, teamed up last week to rank linebacker units across the NFL and by division.
Kirwan labeled the Panthers linebackers — Thomas Davis, Luke Kuechly, Shaq Thompson and A.J. Klein — a top-10 corps but said there's "significant separation" between that group and the second-best linebackers in the NFC South. Sadly, Kirwan said that unit belongs to the Falcons.
Kirwan ranks the Saints third and the Bucs fourth. Miller had the same division rankings.
Miller is very suspicious of new Bucs middle linebacker Bruce Carter because he hasn't been a starter has never played a full season, in addition to not being a starter at the position previously. Kirwan says there's too big a dropoff in quality after Lavonte David.
Yes, the Bucs have legitimate questions at linebacker, as they do at every position. Carter is an unknown, but Joe thinks Danny Lansanah at strongside linebacker is underrated. David believes he'll be improved, and the Bucs are super high on rookie Kwon Alexander.
Joe disagrees with Kirwan and Miller. The Bucs linebackers should be at least average.