Stanley Cup Ticket Or Buccaneers Tickets?
June 15th, 2015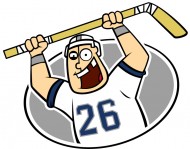 Right now on StubHub, you can score the worst seat in the Lightning house for Game 7 of the Stanley Cup (if necessary) for $648.09.
That's the price of two full Buccaneers season tickets, and extra money to buy an America's Quarterback t-shirt!
Joe, like many other fans, has read stories of Tampa Bay locals paying thousands for a Lightning playoff tickets. Even tens of thousands for a small group.
Joe gets the euphoria, but Joe sure hopes some come to their senses and don't take out second mortgages if the Lightning gets to Game 7.
Blow $100 watching the Lightning at one of the many packed sports bars across the Bay area. Even drop $100 on shots for that table of six hotties at a corner table. But save your big money. Buy Bucs season tickets now and prepare to invest in where Jameis Winston should take this team.