Tim Wright Brings Depth
June 15th, 2015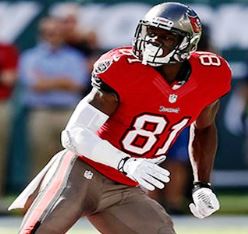 Yes, Joe was surprised when the Bucs claimed tight end Tim Wright off waivers after he was cut by Bill Belicheat. It is a pleasant surprise.
What Joe wonders is where Wright will play. Last year, Lovie Smith openly groused about Wright's inability to block.
Joe suspects that is one reason why Wright was shipped along with a fourth round draft pick to the Belicheats for barbecue pitmaster Logan Mankins.
Now, with Wright back in the fold, the trade was basically Mankins for a fourth round pick.
If Bucs offensive coordinator Dirk Koetter is as good as advertised, he will devise plays and schemes to utilize Wright, whether he can block or not. If nothing else, Wright gives the Bucs a lot of depth.
For his sake, Robert Herron better be renting.
(Yes, Joe is well aware Wright is listed as a tight end and Herron is listed as a wide receiver. If you were choosing the final-53, which one would you keep?)