Mike Evans No. 93
June 6th, 2015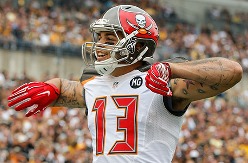 Yes, NFL players, by way of NFL Network, think Bucs second-year wide receiver Mike Evans is great. That says a lot coming from fellow NFLers, especially for a rookie like Evans was.
However, there may be a more august authority than NFL players.
And that would be the NFL Top 100 typed out by none other than prickly Pete Prisco of CBS Sports. He too thinks Evans is elite. Evans made Prisco's list.
93. Mike Evans, WR, Tampa Bay Buccaneers: He averaged 15.5 per catch as a rookie with 12 touchdown catches. Now that he has Jameis Winston, look for those numbers to go up.
Ironically, Evans comes in at the same number that Bucs stud defensive tackle Gerald McCoy wears on his uniform.
This should be an interesting year for Evans. "America's Quarterback," Bucs signal-caller Jameis Winston, should be better than his predecessor, turnover-prone Josh McCown. However, Jameis, good as he is, is still a rookie.
One would think Evans would be better this year. One would think Evans could take advantage of a better quarterback. But, again, will that rookie thrive?
Also, don't discount the fact defensive coordinators had all offseason to figure out how to better defend Evans.