Jameis Winston Manners, Respect Get Spotlight
June 5th, 2015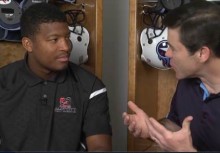 A neat and fresh story relayed by a former NFL linebacker sheds more light on "America's Quarterback," Jameis Winston.
Bucs fans have heard Kirk Morrison be the color analyst on several Tampa Bay games on FOX in recent years. And Morrison, based in Los Angeles, was a co-host on SiriusXM NFL Radio this afternoon.
Morrison explained how he talked to two sources who spent extensive time around Jameis during the NFL Rookie Premiere in L.A. last week. The reviews were standout, Morrison said, relaying that Jameis' manners, charisma and humble nature were unique.
"In a room full of first-round and second-round draft picks, and all these skill position rookie players, Jameis Winston walks in the room and everybody just gravitates to him," Morrison said. "And it's not like he's over there saying, 'Hey, everybody, come follow me.'

"One guy who sat down with him said Jameis Winston made it a point [to talk to] the cameraman who set up the interview. [Jameis said,] 'Hey, how you doing? I'm Jameis. What's your name? Ok, nice to meet you, sir.' Next [interview], the guy who's setting up the telestrator, 'What's your name? Hey, I'm Jameis Winstson, nice to meet you, sir.'"
Joe thinks that's very cool.
However, Joe's not so naïve to believe good manners and caring about others will win football games. Regardless, it's damn good to hear about Jameis, who has been berated by so many.
The story reminded Joe of one told years ago by former rockstar general manager Mark Dominik. A group of potential draft picks had visited One Buc Palace together in 2010, and Dominik noted that just one young man walked into the cafeteria kitchen and thanked the cooks and food service staff for lunch. His name was LeGarrette Blount.
The Bucs didn't draft Blount. Nobody did after his famous college punch of an opponent. But Tampa Bay later picked Blount up off the street, in part because Dominik believed his character was a misrepresented.
Blount became one of the most successful undrafted rookies of this century.