Players Vote Mike Evans No. 75
May 20th, 2015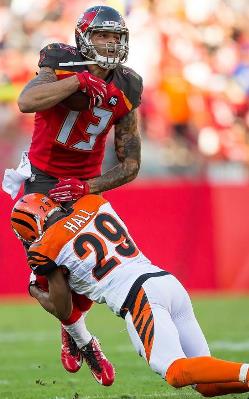 NFL players have spoken.
The votes — exclusively from players — are in. And Mike Evans was honored tonight by landing in the NFL Network Top 100 Players of 2015. Evans is No. 75.
Yeah, some fans scoff at the rankings, largely because of questionable past results, such as Tim Tebow getting in after leading the Broncos to the playoffs. However, Joe thinks the Top 100 is pretty cool. Anytime your peers want to reward you, that's worthy of pride.
The Buccaneers have a rookie representative previously: mattress-in-the-yard Mike Williams was No. 83 for 2011. Leaky, sleepy Josh Freeman (No. 86) also made it that year.
Among other Bucs honored since the feature began a handful of years ago, Lavonte David debuted at 35th last year, while Gerald McCoy checked in at No. 28, the highest ranking of his career. Donald Penn was 97th following the 2011 season, and Vincent Jackson checked in at No. 44 for 2014.