Dominik: Bucs Passed On Two Trades For Glennon
June 12th, 2015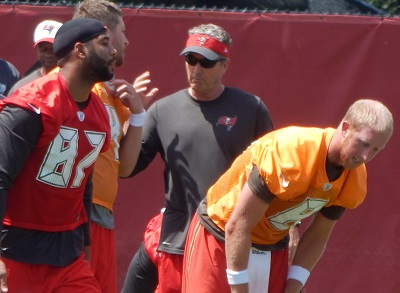 Lovie Smith and Jason Licht love them some Mike Glennon.
Former Bucs rockstar general manager Mark Dominik co-hosted Late Hits on SiriusXM NFL Radio last night and talked about one of his favorite quarterbacks, 25-year-old Glennon, Tampa Bay's 2013 third-round pick.
A listener called in to discuss the Jets swinging a trade for Glennon, and Dominik explained why he's sure there is no trade market for Glennon — because the Bucs are slamming doors on eager partners.
Dominik went out of his way to say he has no inside knowledge on the situation from the Buccaneers, but Dominik made it clear he's been talking to others around the NFL.
"I don't think you can get Mike Glennon out," Dominik said last night. "In fact, I know a couple of clubs actually tried to call and trade for him and [the Bucs] said, No."

"For him, it's going to be about how he plays in the preseason and continue to build on what he can actually do, and wait for his opportunity when that comes when he becomes an unrestricted free agent and support [Jameis Winston], which I know Mike will do. Mike's a phenomenal teammate. He's a better leader than people realize. He's a better athlete than people realize. And I think he'll handle this situation as you'd want him to. And I'm sure he's going to sit there and say, 'Look, I just gotta make it one more year and I'll go get a shot and see what I can actually can do in this league. And right now I'm going to support Jameis Winston and his opportunity because he's the No. 1 pick.'"
Dominik also spoke with certainty when he said he's sure Dirk Koetter played a major role in Glennon's current status with the Bucs.
So what kind of deals were on the table for Glennon?
That's a great question. In a league that had teams fighting for the right to pay dreadful Josh McCown $5 million a year and let him start, Joe suspects the Bucs had some solid draft picks on the table.