Lavonte David Eyeing A Personal "Turnaround"
June 13th, 2015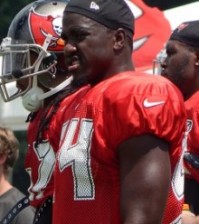 Yesterday, Joe shared Lavonte David's stunning words about Jameis Winston.
But Lavonte had plenty more to say.
The Bucs' stud linebacker told SiriusXM NFL Radio that he likened last year to his rookie season because of his personal challenge learning Lovie Smith's defense.
He said adjusting to Greg Schiano's defense as a 2012 rookie led to his breakout second season, when he had a whopping seven sacks, five interceptions and a safety. David hopes this year will represent the second coming of 2013.
"This year, as I understand the defense more, you know, understand the blitz patterns more, understand the coverages more, maybe I can have that same turnaround," David said. "I'm just trying to focus on that part. Hopefully, I get back to understanding where I can fit at on a certain type of blitz, that can free me up to sack the quarterback. Then also, back in coverage where I can be in the  correct spot on a passing play where I can get my hands on the football."
David went on to explain that while focused on fine tuning his knowledge so he can make impact plays — he had zero picks and one sack last year — he maintains a one-day-at-time attitude.
Joe has great respect for David's approach, but Joe also thinks David is being a little hard on himself. Lovie and Leslie Frazier also need to do a better job maximizing David's immense talent and speed. That's the essence of coaching.