Jameis Winston Won't Bail On Social Media
June 30th, 2015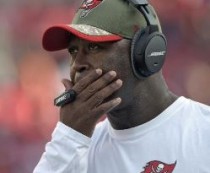 America's Quarterback, Jameis Winston, may be running and hiding from his Super Bowl plan, but he won't hide from the trolls and haters on Twitter.
While being drilled by media at the NFL Rookie Symposium last week in Ohio, Jameis was asked about social media.
Marcus Mariota has no interest in such folly. Gerald McCoy has been all-in and all-out, depending on his mood. Jameis will play, and he wants to use it for good (like any true superhero.)
Here are Jameis' words, via the Associated Press.
"You can only be yourself. What people put out there on social media is just whatever. But I am just trying to be a better person and live life, and that's all," [Jameis said]. "I mean social media can help you in so many ways, from a positive standpoint. I can't control what people put on social media about me, but I can control my actions and what I do."
Joe sees the benefits of social media for players. But they need thick skin to keep it a positive experience. Jameis has proved he has that more than any other Buccaneer. So Joe's glad Jameis will keep Tweeting for the forces of good.