Jackson Rejuvenated By Koetter
June 5th, 2015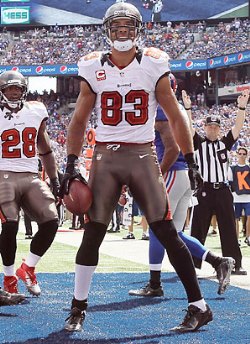 For an old dog like Vincent Jackson, getting up for work or a game must have been drudgery the past few years. When he played for the Chargers, just about every year they were in the playoff hunt or better — with Super Bowl aspirations.
In his last three years with the Bucs? Since the final weeks of 2012, when the team the took a nosedive into the Gulf, Tampa Bay has been just wretched.
Soon to fight Father Time, if Jackson isn't already, the losing and losing and losing and losing had to be a big time drag.
To hear him talk yesterday after a Bucs OTA practice, it seems as if Jackson is reborn with new offensive coordinator Dirk Koetter.
"It's been fun for me," Jackson said. "I've just been able to – obviously the way I've worked in the past was being very dynamic where they can play me in multiple places and (Offensive Coordinator) Dirk (Koetter) is having fun with that and he's putting me in a lot of different areas. It's fun to play inside, outside, stretch the field, cross the field, and that's what's good about this offensive system is that we're going to put the ball all over the place.

"Backs, tight ends, everybody's going to be involved and that's exciting because we've got playmakers. Obviously I think now that we're going to shake some things up with our system and scheme and it should be a fun fall for us."
How much fun is Jackson having? Consider conservative Jackson was high-stepping after scoring a touchdown in practice — in practice!
Then you throw in how genuinely excited Jackson seems to be to be catching passes from "America's Quarterback," Bucs signal-caller Jameis Winston, Jackson seems to have the attitude of a fresh-faced rookie.
Or at least a guy whose love for the game is rekindled.