More Cheering For Jameis Jersey Sales
June 19th, 2015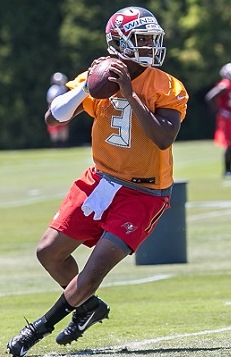 Spreadsheet types at One Buc Palace are all amped up by the numbers of Jameis Winston jerseys being gobbled up.
At a meeting of business leaders in Lakewood Ranch this week, Bucs chief operating officer Brian Ford was all fired up with enthusiasm. And it was reported from the meeting, by the Sarasota Herald-Tribune, that Jameis' No. 3 jersey has broken sales records.
Joe sought clarification and learned that sales of Jameis jerseys have surpassed those of any other Bucs rookie in a comparable timetable. Detailed records date 20-something years.
Joe has to imagine Cadillac Williams (2005) sold plenty in the weeks after he was drafted. There was a ton of hype surrounding that pick, and the Bucs were the shiniest jewel of the Tampa Bay area back then.
In May, Jameis jersey sales ranked No. 2 in the NFL. It'll be interesting to see if that national popularity holds. Joe doubts it, considering Jameis is a villain outside of Florida.