Jameis Is Hard
June 17th, 2015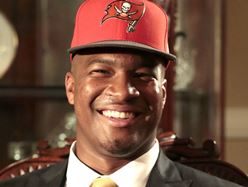 It's one thing for Evan (nee: Dietrich) Smith to mouth off about the rookie quarterback he must lean on to keep his job with the Bucs.
It's quite another when a well-respected yet quiet former Pro Bowler like left guard Logan Mankins offers feedback on "America's Quarterback," Bucs signal-caller Jameis Winston.
For if Mankins, who has exerted himself as not just the leader of the offensive line this offseason, but perhaps the leader of the offense, has an issue with Jameis, then there are problems.
Nope. Add Mankins to the chorus of Bucs veterans who have roundly talked up their new quarterback.
Mankins spoke with the Tampa Bay pen and mic club after minicamp practice yesterday and he sure seemed to imply Jameis is the real deal. In fact, the word that Mankins used over and over again in describing Jameis was "hard."
"He has been great," Mankins said. "He's working hard; he's studied hard; he has practiced hard. He has been a good teammate. Everything you want in a rookie. He listens. He wants to learn. That has been great.

"He has good command of the huddle. He gets the plays out to us good. We understand them the majority of the time. He's got a ways to go. He's working hard. That's all you can ask."
Joe asked Mankins about the story when he was running gassers with his fellow offenisve linemen paying the penance of mental errors, when Jameis jumped in out of nowhere to run with the group. Mankins snickered and admitted he was impressed by Jameis' move.
"It is kind of expected," Mankins smiled. "He is a rookie and he needs to be in shape, too. I know some quarterbacks just stand there the whole game. Every once in a while they have to run and they need to get their conditioning in, too. And that is something that is important to me: that we are in good shape. So, I feel if we need to do extra running, we are going to do it."
And, yes, Mankins looks svelte. Joe doesn't know how much weight Mankins shed but it is noticeable. Joe heard rumors before OTAs Mankins may be in the best shape of his life. With the weight loss, it tells Joe that Mankins is motivated, something he didn't appear to be last year when he came to the Bucs in a trade from the Belicheats.