Jameis Accuser Legal Tactics Blasted By Tampa Attorney
June 7th, 2015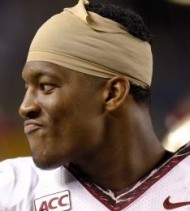 It's getting nasty and dirty in the civil suit of Jameis Winston, the one that accuses America's Quarterback of sexual battery, assault, false imprisonment, and intentional infliction of emotional distress.
Tampa attorney Sam Harden, of Metcalf-Harden, has been following the action and doesn't like what he sees from the team representing Winston's accuser, Erica Kinsman.
Harden penned a must-read blog featuring a too-naughty-for-Joe expression that describes his view of Kinsman's legal attempt to force Jameis' lawyer, David Cornwell, to stop representing him.
In short, Kinsman's team filed a sealed Georgia Bar complaint against Cornwell — something anyone could do. And then is using that complaint, which has yet to be resolved, to stop the attorney from representing Jameis in Florida.
The reason that Cornwell's attorney filed this affidavit is this: Cornwell is appearing pro hac vice in Florida on behalf of Jameis Winston. Pro hac vice is latin for "for this time or occasion" and is a way courts of other jurisdictions allow attorneys from different places to practice law there without applying to the state bar association and taking (and passing) the bar exam. Cornwell isn't licensed in Florida's Middle District, so he asked the court to let him appear pro hac vice on behalf of his client for this one case.

When a court is considering whether or not to allow an attorney from another jurisdiction to appear pro hac vice, they typically look at that attorney's disciplinary history. When he applied, Cornwell said he didn't have any disciplinary proceedings pending against him, which was technically true. A bar complaint isn't the same as a disciplinary proceeding, which can usually only be initiated by the bar itself or by the state's highest court. Kinsman's attorneys must have pulled Cornwell's pro hac vice application, saw he didn't disclose that they had filed a bar complaint, and said "gotcha!" and then went and complained to the judge.

I wouldn't expect too much to come from this. Most judges, especially federal judges, have limited time and less patience to dedicate to attorneys bitch-slapping each other.
There's much more via the link above, including analysis of the technicality being argued to boot Jameis' counterclaim against Kinsman.
What a mess, and one that's sure to hang around a while. Joe hopes Jameis can avoid being distracted. Yes, he did that at Florida State, but this is the NFL, where every last thing is new for him and the spotlight is far more intense.