"They Need To Improve To About 6 Or 7 Wins"
June 7th, 2015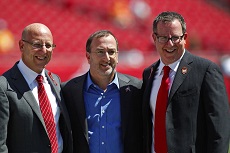 So what's a reasonable expectation for the Buccaneers this year?
That question was posed to a prominent Tampa Bay scribe hours ago on NBC Sports Radio. That man was Rick Stroud, of the Tampa Bay Times and WDAE-AM 620.
Stroud starting answering by saying how the Bucs play in the weak NFC South and have a soft non-conference schedule, starting with the Titans and home on opening day.
"I would think they need to improve to about six or seven wins this year," Stroud said, explaining that whether the arrow is pointing up or down at the end of the season will be important. "You would hope they'd be a much better football team at the end of the season."
Stroud went on about concerns and questions on the offensive line and at safety, among other areas, emphasizing that Jameis Winston and Dirk Koetter will be the primary keys.
Joe's more interested in Stroud putting six or seven wins out there.
What if the Bucs only end up with four? Would Team Glazer have the stomach to bring back Lovie Smith after six wins in two years? How Gus Bradley does in Jacksonville this season, his third year after seven total wins, might be worth monitoring.