Overlooking Depth
June 5th, 2015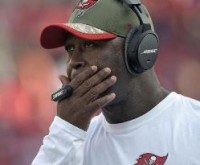 A leader at One Buc Palace offered firm language when it came to discussing how fans too often overlook depth.
Of course, Joe's talking about Buccaneers cheerleader manager Tara Battiato, who says the depth of her women gets lost in scrutiny of their exterior, so she explains in the sassy cheerleader audition video below.
It's go time for the ladies. Cuts have come. As always, Joe is here to personally console the losers and let them know they're winners in Joe's book.
Enjoy the video below, one of the best the Bucs have produced.