In 66 Days …
June 10th, 2015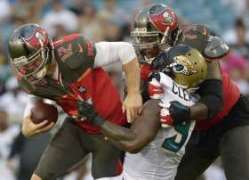 Yes, it's June and some don't feel any urgency for football season because they think it's so far away.
Joe's here to remind you that things get very dangerous in just 66 days.
That's when the bright-colored, you-can't-touch-me quarterback jersey comes off Jameis Winston. America's Quarterback.
Assuming the Bucs stop giving Mike Glennon first-team reps, Jameis will line up across from a legitimate, sack-happy NFL defense in Minnesota for the preseason opener.
Anyone remember last year's first preseason game? That was when Josh McCown nearly needed a body bag after the mighty Jaguars abused Anthony Collins and friends repeatedly. (See photo above.)
The clock is ticking. Modern NFL rules don't allow much barbecue practice time in pads — aka real football — especially for a team with a new offensive coordinator, and rookie offensive linemen and a 21-year-old quarterback.
Joe writes a lot about "underwear football" and how meaningless much of it can be. But it is critical for this Bucs team on many levels. Priority No. 1 is Jameis' skeletal health in 66 days.