"Everybody In This League Is Looking For Tight Ends"
June 13th, 2015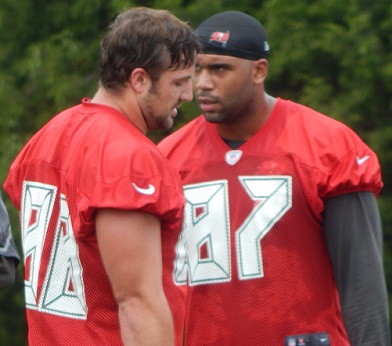 So why couldn't the Patriots trade Tim Wright?
It's a great question. The 25-year-old has 80 catches and 11 touchdowns in two seasons — in part-time duty, and he hasn't been hurt.
What makes it even more intriguing is the recent claim on the state of NFL tight ends from legendary scouting guru and former Cowboys architect Gil Brandt. In a piece he penned for NFL.com, Brandt talked about the prospects of free agent Seahawks tight end Zach Miller finding a new job.
"Everybody in this league is looking for tight ends; this is a clear position of need," Brandt wrote (the italics are his, not Joe's). "The 29-year-old Miller, who has eight NFL seasons under his belt, might not be starter material — an ankle injury severely limited his playing time last season, in which he was held to six catches for 76 yards in three games — but he can still make plays. Somebody will give him a look."
Wait a minute. If "everybody" needs a tight end, then why didn't Bill Belicheat fetch at least a seventh-round pick for Wright?
Something doesn't fit. Wright even plays for close to the league minimum salary.
Perhaps nobody felt like dealing with Belicheat? Or maybe Belicheat decided to do his former personnel man, Bucs general manager Jason Licht, a solid, knowing the Bucs had first shot to claim Wright off waivers?
Regardless, the Bucs now have four tight ends with various strengths and NFL experience. Yes, even Luke Stocker, who was re-signed because he can block and the regime loved his special teams play last season.
If Brandt is correct, then maybe the Bucs will go ahead and keep all four.