Crazy?
June 14th, 2015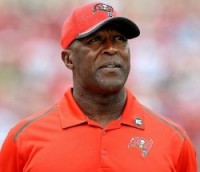 Before Joe gets started here, Joe wants to say there are few nicer guys than Mike Freeman of Bleacher Report. Dude always has a smile on his face. Nobody digs for NFL info like Freeman and few have as many high-level NFL contacts.
Freeman is a good dude and has been quite kind to Joe in the past.
But sometimes even the best of them step into a pile of manure once in a while. Take a recent Twitter post Freeman had, thinking out loud.
Am I crazy to think Bucs might have good offense next year? I'll hang up and listen.

— mike freeman (@mikefreemanNFL) June 12, 2015
Joe can see why someone could come to that conclusion. The Bucs have a pair of receivers better than most teams. This is the best one-two punch at receiver the Bucs have had since they had Keyshawn Johnson and Keenan McCardell, and probably the best in franchise history.
Of course, every football person who has scouted or studied "America's Quarterback," Bucs signal-caller Jameis Winston, believes he could be elite. If you believe tight end Austin Seferian-Jenkins should break out this year, then that's four studs, potentially.
Add a proven NFL offensive coordinator, and one could logically argue this could be a strong Bucs offense.
After that? Well…
The key here, of course, is the offensive line. Just like last year, there are massive question marks. Specifically, the offensive line largely will judged after the season by how quickly the two rookie offensive linemen develop.
If Donovan Smith and Ali Marpet struggle, it's not a stretch to suggest Jameis will get pummeled and could become gun shy, and the team will be staring at another awful season right in the face. Again.