David Says Defensive Free Agents Were Needed
June 14th, 2015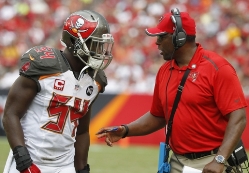 The leaders of the Buccaneers defense like to point to how well their "D" played (allegedly) in its final 10 games.
But that same defense had many key pieces bounced.
Speaking on SiriusXM NFL Radio recently, Lavonte David named the six experienced defensive free agents Tampa Bay added — Bruce Carter, Sterling Moore, Chris Conte, D.J. Swearinger, Henry Melton and George Johnson —  and referred to them as "those guys that we probably needed."
Joe found the admission of need by David particularly interesting, especially considering the Bucs ditched starting middle linebacker Mason Foster, David's very close friend.
Joe loves the free agent signings, all second-tier type guys, and nearly all very familiar with Lovie Smith's old school Tampa-2 defense.
Unlike the Bucs' offense, the Tampa Bay defense has run out of excuses. If this unit continues to blow late-game leads and doesn't rank among the top half of the NFL, look for Joe call for some heads to roll.