Bucs Aren't Shopping Glennon
June 7th, 2015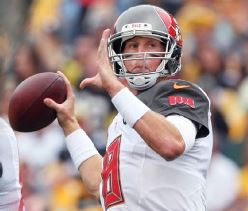 Ask Joe why the Bucs — or any team — haven't made a transaction, and the answer usually is staring you in the face.
Take this Dan Connolly. A starter on the reigning Super Bowl champions, not even Bill Belicheat wants the offensive lineman back. Connolly is unemployed. Not only the Bucs, but 31 other teams haven't picked him up.
Currently, Connolly is on the same trash heap as Anthony Collins and Da'Quan Bowers, former Bucs who also cannot find work, not even in the CFL. If it is June and you cannot find a job in the NFL, then that speaks volumes.
In the days leading up to the 2014 draft, the Bucs fielded all kinds of calls from NFL general managers seeking the services of the quarterback of the past and the quarterback of the future but not the quarterback of the present, Mike Glennon.
The Bucs figured, if so many teams were inquiring, including Belicheat, perhaps they better keep Glennon. Joe wishes the Bucs would have had the same epiphany when Ozzie Newsome came calling about Jeremy Zuttah.
With Glennon, barring an injury to "America's Quarterback," Jameis Winston, expected to watch from the sidelines this season, a Bucs fan asked ESPN writer Pat Yasinskas if Tampa Bay was looking to move Glennon for some needed parts.
In so many words, it isn't happening.
@PatYazESPN: Very slim and maybe even none. If the Bucs were going to trade Mike Glennon, they probably would have done it by now. They're very comfortable with him as the backup to rookie Jameis Winston. It's not likely that the Bucs would go through the process of Glennon learning Koetter's offense and then turning around and trading him. Besides, they would have to scramble to find another backup.
The Bucs like Glennon, but apparently not enough to lead the team unless something dire happens to Jameis. Glennon, in underwear football, has looked as well as he ever has.
Joe has a hunch that part of Glennon's sharpness comes from having an offensive coordinator for a change. My, what a difference coaching can make.