Alterraun Verner Talks Jameis Mistakes
June 18th, 2015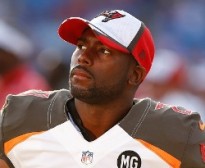 In case you missed Joe's comprehensive notes from yesterday's final spring practice at One Buc Palace, Jameis Winston started play against defense by tossing a ball that was nearly picked off by Alterraun Verner.
The next snap was snatched from the air by Lavonte David.
Verner talked about Jameis' errors this morning on SiriusXM NFL Radio with hosts Ross Tucker and Booger McFarland.
The Bucs' cornerback, a former Titans Pro Bowler, likes what he's seeing after the errors.
"I see a lot of poise and confidence in him. You can tell that he progresses. When he makes a mistake, he beats himself up about it and, you know, learns from it and talks to the OC, to the players," Verner said. "And you can just tell his enthusiasm and his charisma, everybody gets fueled by that.

"Now has he made mistakes? Has he thrown some bad passes? Yes. He has. But I mean what quarterback wouldn't do that. I'm pretty sure Peyton Manning and Aaron Rodgers throw those bad passes every once in a while, too. But I see him work, and you can just tell in his work ethic that he's trying to get better and he wants to be the best. And that's why I see a lot of good qualities coming to him."
Yes, it's yet another Bucs veteran raving about America's Quarterback, and the way he works and inspires.
Hopefully, Jameis can inspire the five guys blocking in front of him to care about his health more than they did Josh McCown's.