Day 2: Minicamp Notes & Observations
June 17th, 2015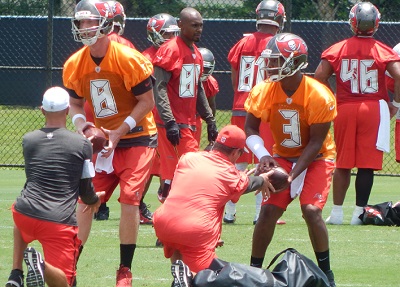 Joe sweated his footballs off today at One Buc Palace, Day 2 of mandatory minicamp. Joe's got your need-to-know below.
*Drop! Wide receiver Rannell Hall.
*It's America's Quarterback, and Jameis Winston is working with the first team. It didn't start pretty. First snap is a near pick by Alterraun Verner, jumping a route on Austin Seferian-Jenkins. The next play is an interception by Lavonte David. Terrible throw.
*Players serenaded to the tunes of Ace Hood.
*Glennon steps in and completes first pass with second team to Donteea Dye.
*It's an underwear football non-sack of Glennon by Larry English. Would have crushed him in real game.
*Glennon, in shotgun formation, changes play at line and then hits Luke Stocker.
*Ronde Barber and Shaun King are in the house studying practice.
*It's so hot and sunny, King is slathering on sunscreen of all things, not to mention a pale-face like Joe needing protection.
*Mike Evans skies high for a pretty pass from Glennon in 7-on-7 work. Next play is a near pick on Glennon from linebacker Jason Williams.
*Jameis comes in with a low slant throw to Donteea Dye. Next up is a nice catch bye Austin Seferian-Jenkins. Bucs defenders still trying to slap ball away even after whistle blows.
*Jameis clearly goes through progressions and hits Stocker with a laser.
*A Bill Walsh-type pass! Jameis throws open Tavarres King with a dart over the middle.
*Bruce Carter tries to jump a Jameis throw and got a finger on it. Incomplete.
*Johnthan Banks covering Robert Herron proves a mismatch in favor of the defense.
*Defenders noticeably swarming today, like wasps coming back to the nest.
*Man, Mike Glennon sure looks comfortable. Strike to Seferian-Jenkins.
*Rookie Kaelin Clay was drafted to return kicks, but he sure has some sharp footwork in the receiving game.
*Who? Tight end Evan Rodriguez is covered by Verner and Jameis can't squeeze in a pass.
*A little rollout for Jameis, not seen much in camp, complete to Adam Humphries.
*Sweet pass from Jameis to Seferian-Jenkins, who makes a basket catch.
*Ouch! A rare underwear football injury moment. Carter appears to have the wind knocked out of him in a collision over the middle. He was closing on Humphries.
*11-on-11 begins. Jameis throws a bomb on left sideline to Vincent Jackson, but V-Jax wasn't running deep. Welcome to June.
*Glennon complete in left flat to Bobby Rainey. Joe needs a replay. The design of that play was very intriguing.
*Major Wright and D.J. Swearinger are the first-team safeties. Yesterday, it was Bradley McDougald and Chris Conte.
*Scramble! Jameis is on the move to his right. Of course, nobody is allowed to touch him and he is no Mike Vick with his legs.
*McDougald gets a hand on an errant Glennon 20-yard pass. Glennon comes right back, rolling right and hitting Rannell Hall in stride, but Hall needs a juggling catch to hold on.
*Swearinger and leaner, stronger Doug Martin have a long foot race to the end zone at full speed. Fun to watch. A couple of fast dudes there. Martin didn't gain ground, but didn't get caught. There's a lot of energy late in this practice. Could be the cloud cover that arrived after 3 p.m..
*Seferian-Jenkins flashes studly hands on two plays in a short span. Just stay healthy ASJ. What a potential weapon.