America's Bowler
June 18th, 2015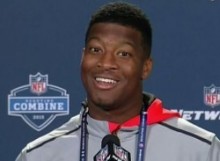 Yes, "America's Quarterback," Bucs signal-caller Jameis Winston, is a helluva athlete. In case you were not aware, he was a top closer in college baseball last spring and possessed a 95 mph fastball. Impressive.
Apparently, Jameis can bowl, too.
At today's Bucs bowling party, Jameis was being Jameis when he picked up a one-pin spare and strutted with his swag and barked trash to his teammates.
Joe can't wait for the verbal sparring between Jameis and slovenly Rob Ryan that began at Winston's pro day in Tallahassee.
.@Jaboowins picking up a spare during the @TBBuccaneers bowling outing pic.twitter.com/4DP2kenDlX

— Casey Phillips (@caseyreporting) June 18, 2015