Alshon Vs. "Godzilla"
June 10th, 2015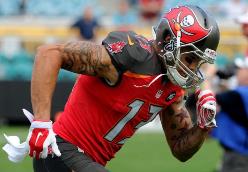 Joe will never forget when Mike Evans, in his first rookie minicamp practice, made one of the silliest catches Joe has ever seen.
You could almost hear all the audible "Ohs" from witnesses all the way to Jesuit High School.
Even better/funnier, AC/DC-loving Bucs general manager Jason Licht remarked Evans looked like "Godzilla."
So in a fun twist for the quieter time of June, CBS Sports is pairing various players to debate who is better. In this episode, the debate is the two best turnover-prone Josh McCown receivers. Is Bears receiver Alshon Jeffrey better than Evans?
Prickly Pete Prisco of CBS Sports would take his chances with Evans.
"He averaged 15.5 per catch as a rookie with 12 touchdown catches. Now that he has Jameis Winston, look for those numbers to go up."
Meanwhile, Jeffrey's numbers have slacked.
This may shock some, but Joe will take the younger of the two, Evans. Prisco is right, with a better quarterback, Evans should be even better.