Bucs Carrying Jameis?
June 10th, 2015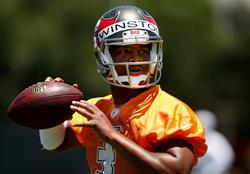 Look, it is June. Joe's concentration this time of the year is tilted toward gawking at lovely lasses in tanned legs while nursing cold beer on a hot afternoon more than who the starting long snapper will be. Sorry.
And since it is June, it is slow news period of the NFL, one in which all of us tend to blow up the minutiae.
Take "America's Quarterback," Bucs signal-caller Jameis Winston. A lot of fans have been pointing to him working with the second team. Joe honestly believes this is not a signal that something is wrong.
Last year, the Bucs got third degree burns knighting Anthony Collins, turnover-prone Josh McCown and Ghost Johnson starting jobs when it could be argued none of them deserved one.
And Bucs coach Lovie Smith did his absolute best to will castoff Mike Jenkins into a starting job. Can you imagine? In retrospect, it seemed the only way the Bucs avoided this ghastly mistake was Jenkins getting hurt.
Monday, in a stand-up with Casey Phillips of Buccaneers.com, Jameis said something that made the antennae on Joe's head spring to life. While Jameis taking reps with the second team may be a form of gamesmanship by the Bucs brass in effect saying, "No starting job is a gift," Jameis offered a take to Phillips that made Joe take pause.
"Having great guys around me, you don't see what you are doing wrong until you watch film," Jameis said.
What does this mean? On face value, yes, Jameis said he is learning. However, it almost sounds like Jameis is being carried by his teammates. Odd.
Look, Jameis has been with the Bucs for a bit over a month. Joe doesn't expect him to have the knowledge of even the quarterback of the past and the quarterback of the future but not the quarterback of the present, Mike Glennon, who is entering his third season in the NFL.
Joe isn't sure if that should be alarming, or just the fact it is still underwear football in June?