Projection: Solid Year For Jameis
June 10th, 2015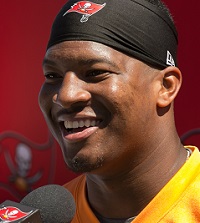 Save for the Andrew Lucks of the world, rookie quarterbacks struggle far more often than not. That's why Joe thinks if the Bucs can get six wins this year, that would be a nice season, tripling their wins from the previous puke-filled season.
Now if the Bucs are to make any kind of unforeseen run to a winning season, that tells Joe that "America's Quarterback," Bucs signal-caller Jameis Winston, is having a spectacular rookie year.
While Bucky Brooks, a former NFL player and scout who is now an analyst for NFL.com, may not be picking the Bucs to make a playoff run, he can see Jameis having a solid year.
Best-case scenario: Winston hits the ground running as the on-field director of a Dirk Koetter offense that features an explosive vertical passing game complemented by a steady ground attack. With receivers Mike Evans and Vincent Jackson wreaking havoc on the perimeter and tight end Austin Seferian-Jenkins controlling the middle of the field, Winston could lead the Buccaneers back toward .500 as a rookie starter.
The problem with Brooks' pie-in-the-sky theory is that projecting the Bucs to have a steady ground attack is a stretch. Joe isn't sold on Charles Sims (yet) and, given recent history, Doug Martin is more likely to struggle than to shine.
Brooks believes Jameis will throw for 3,100 passing yards, 22 touchdowns and 15 interceptions. Not shabby for a rookie and far better than what Will Brinson foresees.