Ali Marpet The Key?
June 1st, 2015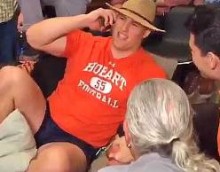 Yes, you've read and heard and watched folks break down the draft of the Bucs, not a month after the fact.
Joe is of the mind that it takes three years to dish out objective grades.
Most suggest how "America's Quarterback," Jameis Winston, pans out will determine if this draft is a success or not. That's not a stretch.
Good guy Emory Hunt, the czar of the playbook, has a different twist with the Bucs. He picked two draft picks that are key. Sure, one is Jameis, but the second was surprising. Hunt believes guard Ali Marpet, from the noted football factory of Hobart College, was a complete and total steal by AC/DC-loving Bucs general manager Jason Licht.
Click the video below and listen to Hunt's words and explanation.