"Fans May Not Like To Hear That"
June 1st, 2015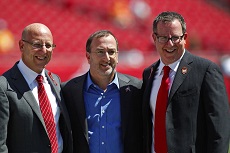 Former college quarterback turned NFL scout turned NFL Network draft guru Daniel Jeremiah slammed the Bucs last week. National uber insider Peter King buried them today.
And a local beat writer offered painful talk to Bucs fans on Saturday.
Esteemed Buccaneers scribe Woody Cummings used the "R" word, despite knowing if irritates and agitates Tampa Bay faithful — especially during the sunny optimism of late spring.
Cummings, of The Tampa Tribune, used the bully pulpit of WDAE-AM 620, the Buccaneers' flagship station and Joe's media partner since 2009.
"The Bucs haven't wanted to admit it, but there's just no question, guys, they're rebuilding this football team. That's just the way it is. Fans may not like to hear that, but that's what's happening here, It's what's been happening for two years," Cummings said.

"They tried to build it on the quick last year and it didn't work. Then they go back to the plan and say, 'Alright, let's go to the draft; that's where we're going to find our starters, and if we can't find them there we'll try to fill it in free agency if we have to. But we're going to find young guys who can play for this team for the next five, 10 years and hopefully they're going to learn how to play quickly.' So, yeah, there's going to be problems at times if you've got [left tackle Donovan Smith] starting at that spot. But if he's your best left tackle, you gotta go with him."
Yes, the Bucs are rebuilding, but that takes on a different kind of meaning in the weak NFC South, won by the 7-8-1 Panthers last year. Heck, the rebuilding Bucs could be 5-7 in December and legitimately be in the hunt. It would be easier temper expectations and keep fans patient if, say, the Bucs were in the NFC West.
But Lovie Smith and Jason Licht are brimming with optimism and believe loads of those "close" losses last year will translate into victory in 2015. Licht repeatedly refers to Dirk Koetter as the biggest offseason acquisition.
"Rebuilding" or not, Joe knows one thing Bucs fans rightfully demand: an opening day victory against the lowly Titans and Marcus Mariota in Tampa. Joe can't bear to consider the painful fallout if the Bucs lose that game.