"He Knows How To Talk Already"
June 17th, 2015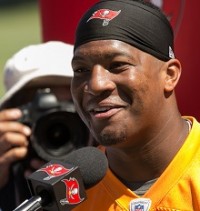 Since the Bucs are no longer trotting out the likes of Josh McCown and trying to sell innocent Bucs fans on the notion that a never-has-been can become a playoff quarterback, NFL Network is paying attention to Tampa Bay again.
It has a lot to do with Jameis Winston, America's Quarterback, being on the roster.
NFL Network had a crew at Bucs minicamp yesterday, and Jeff Darlington got a little private time with Jameis.
Jameis smiled and talked about how great it is to play football, and Jameis said how happy he is to be playing with the second team and earning a job.
Darlington couldn't seem to ignore the silliness of it all, remarking about Jameis, "He knows how to talk already." And Darlington finished the interview calling Jameis a "star."
Yeah, it's June — but there's no shortage of NFL types wondering why Lovie Smith thinks Jameis shouldn't be capitalizing on every possible opportunity to mesh with Vincent Jackson and Mike Evans.