Wake Up, Danny Lansanah!
May 1st, 2015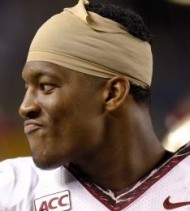 Bucs linebacker Danny Lansanah hopped on WDAE-AM 620 today and talked about how Jameis Winston will not come into the locker room and change the culture of the team.
Per Lansanah, the Bucs are a team that lets its on-field performance do the talking.
Joe was speechless and downright angry.
Mr. Lansanah, the Bucs displayed a culture of losing and depression throughout 2014, a culture of shame, and you better believe a Jameis-led change is coming — or losses will continue to mount.
Here are Lansanah's exact words:
"Lavonte [David] is one of the top guys in the locker room. He's laid back. You know, all of us are like that. Just [Winston] coming into the culture and seeing how everybody carries himself, like Vincent Jackson, everybody's just that laid back type of guy, don't talk a lot, but on the field we let our play do the talking," Lansanah said. "So, you know, I think just him coming in and just seeing that culture that's in our locker room, he's going to adapt.

" You know, you have no choice. You have other guys in there;  everybody is on the same page. For you to come in and try to change the culture is not going to happen. Guys aren't going to let it happen."
Don't be confused, Lansanah was excited to have Winston. He even said he studied the draft and the players available and has long been a Winston guy.
But Joe finds Lansanah terribly misguided in his locker room commentary. This Bucs team needs the kind of winning leadership that oozes from Winston. As Joe has written before, Winston should be the Warren Sapp of this Bucs offense and this era of Bucs football.
Play like a winner. Talk like a winner. And demand your teammates make winning a priority on every snap. Or get the hell out and play for the Jaguars.
You can hear all of Lansanah's takes below, via the WDAE-AM 620 audio player.