"We Were Able To Get A Contract Done Already"
May 1st, 2015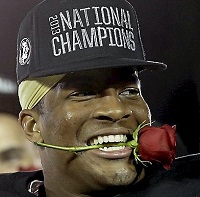 Jameis Winston is signed, sealed and delivered.
Seconds before Jameis had his opening news conference in Tampa today, Jason Licht announced that the Bucs' new franchise quarterback has signed his rookie contract.
No haggling. No issues. No hesitation.
"We were able to get a contract done already," Licht said.
This isn't exactly a big deal, but it got done much faster than expected. It's a good sign.
"I'm glad we got the contract stuff out of the way," Winston said.