Tampa A Finalist For Two Super Bowls
May 20th, 2015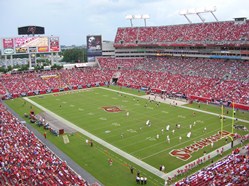 Are the Bucs trying to lure another Super Bowl to Tampa? Per a report late last night, that seems to be the case.
Adam H. Beasley of the Miami Herald claims Tampa Bay is among four finalists to host either Super Bowl 2019 or 2020.
Yes, the nearly-outdated Den of Depression with standard definition scoreboards and little else to draw fans (aside from good grub) is trying to compete against state-of-the-art stadiums,  such as those New Orleans (recently renovated), Miami (in the process of a major renovation) and Atlanta (new stadium currently under construction).
But, hey, there's the pirate ship 99.9999 percent of the folks who come to the stadium can't enter.
Per the voter-approved referendum that funded the Den of Depression back in the 1990s, there is to be mandatory upgrades to the stadium from the overseer of stadium, the Tampa Sports Authority.
So why the hell there are still standard definition instant replay boards operating? That's inexcusable in 2015. Hell, the Rams are (likely) leaving a perfectly good stadium and moving halfway across the country because they claim their dome is ill-suited for NFL football and that dome has HD replay boards!
The aforementioned four teams vying for those Super Bowls will submit their bids to the NFL for a vote in May, per Beasley. Joe has to imagine the bid includes concrete stadium-upgrade plans from the Tampa Sports Authority, or they are simply wasting their time.
Shoot, it was the NFL that told the Dolphins to forget about another Super Bowl unless Joe Robbie Stadium was renovated. And the Dolphins have complied.