Bucs Fandom Gone Too Far
May 20th, 2015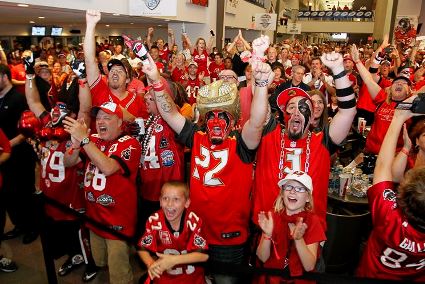 Yeah, some folks think Joe is too much into football, eating, sleeping and talking football virtually 24/7. Joe could think of worse things to be consumed by.
But hey, this passion has led Joe to a great gig and a cool website that, apparently, many Buccaneers fans enjoy. Joe thanks his lucky stars daily.
Some, though, have taken their Bucs fandom just a bit too far. Joe came across a website by the name of "cover32." It really isn't much of a site, but the link showed up in Joe's Twitter feed. Something about sports face tattoos.
Then Joe saw what lured him. It appears to be a mugshot of a Tampa Bay fan who has Bucs logos burned into his grill.
Hey, to each his own, but Joe has never understood tats. Maybe because Joe has been cursed for life with bad skin, and would give six figures to have good skin for the rest of his years on earth (yes, really), so Joe just doesn't get why someone would scar up perfectly good skin. Besides, tats are ugly as hell.
Putting tats on a woman is the best way to ugly her up. It is gross.
Besides, the Bucs fan pictured above, dude must have been a special kind of drunk. Just how wiped out do you have to be to get sports logos fried onto your face? You'd just about have to be comatose from a bottle(s) of tequila to be this smashed.
Hey, Joe appreciates the guy's dedication. But dude, Joe hopes you have an open-minded wife. Can you imagine going to a job interview with Bucs logos all welded into your noggin? Man.