Spinning The Wheel At Defensive End
May 18th, 2015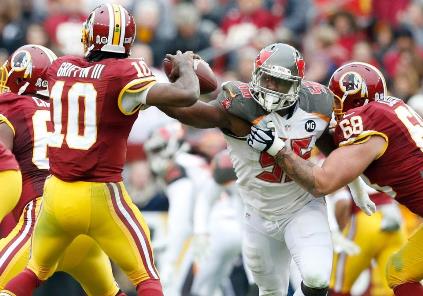 Listening to Buccaneers defensive line coach Joe Cullen chat today, Joe felt like there was a roulette game going on.
When it comes to who will play defensive end and where, the Bucs are playing musical chairs right now.
First, Cullen was asked about 6 1/2-sack man Jacquies Smith, the guy who says he's looking at 10 sacks in 2015. Cullen revealed the Bucs are looking at Smith at right end right now.
"You know, you look at body type, he probably fits that a little better. But he played well on the left last year. We're trying to look at him on that side," Cullen said.

"Sometimes you put your best pass rusher on the left on the weaker tackle, the bigger tackle, the more physical tackle and sometimes I've had better success putting the power guy over there on the guy that's a little lighter and a better athlete."
A "work in progress," Cullen called it. Not surprising in May.
Cullen was talking up the versatility of newcomer $3 million man George Johnson, and he was all pumped up by versatility T.J. Fatinikun, aka "Fat" and Larry English. Cullen agreed with the notion that "Fat" is the No. 4 defensive end right now.
William Gholston was pegged as the lone defensive end who can play inside, a critical role. The Bucs always have one defensive lineman available on Sundays who can play inside and out. Henry Melton would be the other name guy on the roster that plays end and tackle.
Speaking later, Leslie Frazier reference Lawrence Sidbury, who the team picked up in December and likes very much.
Team Lovie is going to need to do a heck of a coaching/decision-making job this season at defensive end.