"I See Myself As A Double-Digit Sack Guy"
April 6th, 2015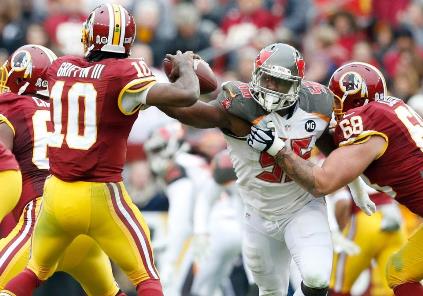 Lovie Smith thought ghostly, ghastly Michael Johnson was a double-digit sack guy.
Greg Schiano claimed Da'Quan Bowers was double-digit sackmaster.
Raheem Morris regretted not lobbying for his favorite double-digit sack machine.
Now, the Bucs have a guy on the roster who believes he will be the one to make everyone stop praying to statues of Simeon Rice, the last man to record 10 sacks in a season for Tampa Bay.
Joe is calling your attention to a great Q&A with defensive end Jacquies Smith and Joe Kania, the guy grinding out all kinds of copy at Buccaneers.com. Kania's chat included this exchange.
Q: When you look back at this year, how will you remember it?
A: "I feel like I played pretty good for the chances that I got and made the most of my opportunity to start the last eight games. But I honestly think that I'm just scratching the surface. I think that I can be a whole lot better. I consider myself a double-digit sack guy. I really do think that. That's one of my goals for the next year – just be a consistent starter every week and give the team what they need every week. I see myself as a double-digit sack guy and that's why I'm working hard right now. Some people probably still don't even know who I am. That's one of the things that I'm going to work on this year – work hard and not to be a breakout guy, but to be a consistent end week in and week out."
Jason Licht and Lovie don't get enough credit for Smith, known as "Jack" around One Buc Palace. Smith's 6 1/2 sacks in seven starts was worthy of a standing ovation. And Joe loves the guy's attitude.
Smith, 25, showed tremendous energy and speed off the left edge, and the Bucs plucked him off the street in September, before slowly working him into the D-line rotation.
Lovie has said repeatedly that it shouldn't be rocket science for defensive ends to succeed with Gerald McCoy rushing inside and occupying double- and triple teams. Smith figured that out, and Joe wouldn't be surprised at all if he got to that 10-sack mark this season.