Leslie Frazier Expects He'll Improve
May 18th, 2015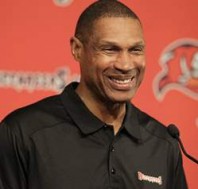 Much is made about how much Tampa Bay defensive players should improve after spending a year in the hard-to-master Lovie Smith/Leslie Frazier defense.
But what about their defensive coaches?
Joe put that question to Frazier this afternoon at One Buc Palace. Lurking, as usual, in Joe's twisted head was the nightmare of the legendary duo of Greg Olsen and Derek Anderson owning the Bucs through two games last year.
Frazier said a year of Bucs experience will help him and his staff immensely.
"I think it's equally beneficial," Frazier said. "You know, you have a better feel for the players, what they can do, what their strengths and weaknesses are. This time of they year a year ago, you know, everything you'd seen was on tape in another system. You were trying to project how they would fit into the system that we were going to introduce. And now, we've actually seen a Lavonte David, a Danny Lansanah, a Gerald McCoy play and function in our defense. We kind of know what their strengths and weaknesses are within what we do. So we can better utilize their gifts, their talents, having a better understanding of what they're best at doing.

"And sometimes that only happens through experience. That experience should help me. It should help all our defensive coaches."
Joe loved Frazier's answer, and Joe's feeling warm and fuzzy with optimism. Frazier and Lovie simply can't put out a defense as ugly as the Bucs' was at times last year. Year 2 has to be better. No excuses anymore.