Jameis Winston Impressed Clinton McDonald
May 18th, 2015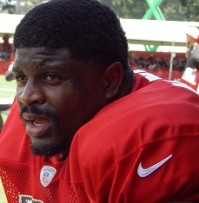 So what happened when the Buccaneers ran sprints last week?
One thing was defensive tackle Clinton McDonald being impressed by Jameis Winston. And no, McDonald wasn't making a wise crack about Jameis' notorious lack of straight-ahead speed.
McDonald, who owns a Seahawks Super Bowl ring, was talking about leadership.
"When we were running sprints the other day, that [Jameis Winston] was one of the first guys wanting to get up there and run. You know how he leads the pack when he's running," McDonald said of what's impressed him about America's Quarterback. "Not to say the other quarterbacks don't, or anybody else don't, but as a young guy, sometimes it's easy to be apprehensive and be passive. And say, 'You know, I'm just going to play this day through. See how it goes. Feel it out a little bit.'

"But at the same time, I think Jameis takes his role seriously. I think he's stepping up to the plate and he sees what's on his plate. And I think he's ready."
The reviews of young Jameis continue to shine. Preseason kickoff is in 89 days.