"Really, What Did They Add?"
May 12th, 2015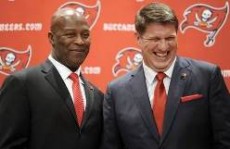 Tampa Bay Times beat writer Rick Stroud must not be a true football fan.
Joe writes that because Lovie Smith, referencing the Buccaneers, said in December that "true football fans can see that we are on the verge." Yesterday on his WDAE-AM 620 morning show, Stroud talked about the Bucs as a team on the verge of a rough season.
"Listen, they have Jameis [Winston], and then they have a rookie left tackle, ok, in Donovan Smith, a rookie guard who's never played above the Division III level in Ali Marpet. And two receivers. Kenny Bell, really? I mean, I don't know what he's going to be. And then Kaelin Clay, who, you know, is just a return guy. So really, what did they add? You got guys learning on the fly with Jameis," Stroud said.

"It is going to take time. Listen, [Jameis] does some things that organically are great, like throw a deep ball like I've never seen a guy do at this age. But the first thing you realize, all these football players, they're very young.

"These are young guys in a man's league. They're going to have huge growing pains this year, in my opinion."
Stroud didn't blink when his co-host, Tom Jones, suggested the Bucs could go 4-12 this season but that wouldn't be Jameis' fault.
Joe's not in such a negative camp. The Bucs look like a 6-10 team on paper, and Joe's eager to change that prediction, if it's warranted after seeing the team in training camp and preseason action.
Joe is confident the Bucs are good enough to win at home on opening day against Tennessee, a win that could significantly change the direction of the team, and no doubt turn the Den of Depression into the happiest place on earth.
Hear all of Stroud's take via the 620wdae.com audio player below.