"Eyes Up"
May 11th, 2015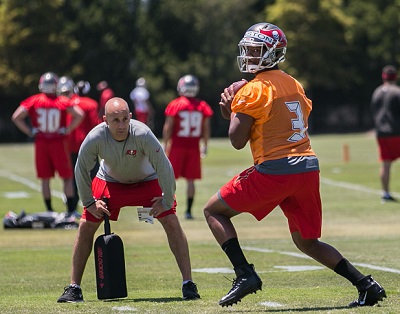 Quarterbacks coach Mike Bajakian has seen plenty of Jameis Winston, starting with scouting him before the NFL Draft.
Today at One Buc Palace, Bajakian opened up about something that "struck me on video," during the evaluation process.
Young Jameis' focus is uncanny and instinctive.
"His ability to keep his eyes up in the face of pressure," Bajakian said. "That's something you can work on, but there's definitely a natural instinct and a natural inclination to have the ability, despite guys coming off and free hats coming; he did a great job of keeping his vision up and staying in the pocket, and also moving in the pocket or moving out of the pocket and still keeping his eyes up. I thought that was really good."
For those interested in Bucs trivia, Greg Schiano used to rave about how Josh Freeman kept his eyes down field in the face of pressure better than any quarterback he had ever seen.
Regardless, what Bajakian referenced is an intangible almost innate ability that's a component of the great quarterbacks. And barring a massive turnaround on the offensive line, Jameis will have plenty of those "free hats coming."