Reality Check
May 6th, 2015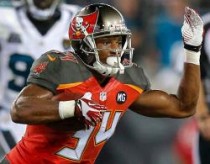 Joe's getting hammered via various mediums for having the nerve to say on radio (last night) and on these here pages (this morning) that the Bucs look like a six-win team right now.
How dare Joe not think the basement Bucs are bound for January glory!
Look, Joe is here to be real, not peddle in what anyone else wants to hear.
Joe's take has nothing to do with doubting Jameis Winston; it's just Joe dealing in reality. The Bucs have a massive pile of unknowns on the offensive side of the football, from the learning curve of a brand new offense, to below average starters and rookies with key roles on the offensive line, to a backfield that has much to prove, and a No. 1 tight end that was riddled with health issues.
There's no evidence the Bucs' defense can carry the team. And the special teams are missing a proven returner, own the worst punter in the league last year, and the unit made a lot of mistakes in 2014.
Joe has to deal in reality. Yes, the Bucs look like a 6-10 team. But it's May.
Ask Joe after a few preseason games, and maybe Joe will see seven or eight Ws on the horizon. Regardless, always count on Joe's candid opinion — like it or not.