Bucs Power Rank? No. 32
May 6th, 2015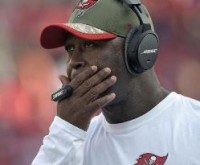 Have the Tampa Bay Buccaneers improved?
Elliot Harrison of NFL.com doesn't think so.
Harrison put his brain on all things related to the completed draft and ranked every NFL team.
The Bucs checked in where they ended last December.
Why last? Tampa had a decent draft, but the Bucs were the worst team in the NFL in 2014. Moreover, much is dependent on whether Jameis Winston can be the leader of this team on and off the field. Meanwhile, Tennessee's concern with its rookie quarterback is onefold: The potential issue with Mariota lies solely between the lines. The Browns had nearly twice as many picks as the Bucs, so give Cleveland a slight nod when it comes to talent infusion. Lastly, of all the current — current — bottom feeders, the Raiders are the most comfortable with their quarterback.
Bucs fans should get used to this kind of stuff from national types. Nobody's going to be buying what the Bucs are selling, especially after Tampa Bay was a common, sexy pick to make the playoffs last year (Joe predicted 7-9 in 2014.)
Does Joe think the Bucs are the worst team in the NFL? Hardly. This should be a much improved team, but Joe's going to have to see an awful lot between now and Labor Day to think the Bucs can have a winning record.