Parcells Has A Question About Jameis
May 7th, 2015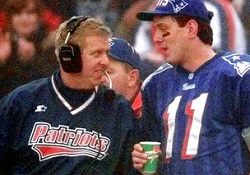 Bucs historians know Team Glazer was obsessed with Hall of Fame head coach/personnel guru Bill Parcells. They yearned to ink "The Tuna" on multiple occasions.
So Team Glazer might want to hear what Parcells is saying about Jameis Winston.
Parcells is an excellent interview and had a raw yet refined take on Jameis during his recent chat with BSPN Radio.
Parcells lamented the plight of young, highly-drafted quarterbacks like Jameis and Marcus Mariota. He acknowledged they'll likely be rushed onto the field because everyone wants to see them play, from fans to ownership. "And that may not be in the player's best interest, really," he said.
Jameis, however, has a more friendly situation, Parcells said.
"Some guys go into situations where they have a good cast. And I think Jameis Winston, you know, he's going to have some pieces down there offensively to, you know, kind of assist him. They've got a good receiving corps. They got a runner. It looks pretty good. The question with him to me is he's not real elusive; he's going to get hit in the pocket. Can he take a beating like Ben Roethlisberger can take it? And if he can, he's going to be a great player. Because he can throw the ball."
Jameis took his share of beatings in college, but Joe's not about to pretend that's an NFL beating. It's not. It's nowhere close.
What Joe can say is Jameis played through a bad ankle last season, in addition to a beating from the media. That was a great early sign.