"They Don't Stunt The Quarterback's Growth"
May 7th, 2015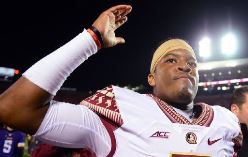 The Buccaneers want Jameis Winston to start from Day 1.
Can he be ready, given how NFL rules have cut but back practice time?
The easy answer is, Absolutely! Cam Newton and Andy Dalton were rookies entering the NFL the moment the asinine lockout ended in 2011. Without offseason workouts and team-led study, those two had strong debut seasons.
Jameis will have a full offseason with a seasoned offensive coordinator a handful savvy veterans to lean on, such as Vincent Jackson and barbecue-yearning Logan Mankins.
Lovie Smith confidant and former Jets and Chiefs head coach Herm Edwards says changes in NFL labor rules, which came in 2011, don't affect the guy under center very much, so he told 99.3FM in Fort Myers.
"Those practice rules, in my opinion, they don't stunt the quarterback's growth at all," Edwards said. "Because he's in the building 24/7. These quarterbacks don't have an offseason, the real good ones. They get it. They're around the building all the time.

"[Regular season] practice goes on Monday through Friday and the players are off Tuesday. Quarterbacks aren't off Tuesdays. They come in. So I think you can still develop a quarterback. It's more of learning the system than anything. Most of these kids are already developed in passing offense."
Edwards, who will join the Bucs coaching staff this summer, went on to say QBs are much more mature throwers entering the NFL nowadays.
"How they process information, obviously, that's the difference from the college to the pro level," Edwards said. "That's what you got to teach them."
Edwards stressed that the lack of practice time — not enough "tackle football" — affects all teams and an entire team. He said it's clear that an NFL team will struggle to find an identity until it's played about four games of a season.
Joe just hopes the Bucs and Jameis find away to get through that initial four-game hump with a couple of victories.