Good "Stressing" From The O-line Coach
May 7th, 2015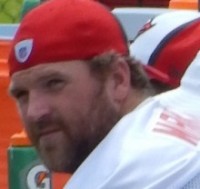 Joe wants to be excited about the Bucs' offensive line under the tutelage of veteran O-line coach George Warhop, who is in his second season in Tampa.
So far this offseason, Joe has learned Warhop was heavily involved in the scouting process and that he's a tough grader when it comes to scrutinizing players. (Joe's really resisting sarcasm and wiseguy commentary.)
Joe also learned this week from Demar Dotson that Warhop is talking tough, trying to rid last year's performance out of his suspect unit.
JoeBucsFan.com: You've been around a couple of rookie quarterbacks in your time here. Do you have certain advice you plan to give a rookie quarterback? Or something you'd like to see him surrounded with to be successful?

Demar Dotson: The first thing he is going to need is an offensive line that is going to protect for him. (Laughs) And obviously, we gotta do a better job than what we gave for Josh (McCown) last year, especially with a young guy that is coming in. I think (George) Warhop, our offensive line coach, you know, he's more stressing that we gotta play better than what we played last year. Because, like I said, with a rookie quarterback there's going to be some challenges. There's going to be some ups, there's going to be some downs. You know, we gotta make him feel comfortable as best we can. It is going to rely on us to keep him as clean as we can."
That feels like a great start; Warhop is "stressing" that the O-line must play better.
Again, Joe's not being a wiseass. Dotson easily could have said Warhop liked components of what he saw late last season and opened up this offseason being all rah-rah and positive. Remember, Lovie Smith is a glass-half-full kind of guy, and many coaches refuse to talk about the previous season.
Joe likes what Warhop is "stressing." It's helping Joe stop stressing about what stressed out Bucs fans all last year — the offensive line.