Mike Evans "Tweaked" Right Leg
May 28th, 2015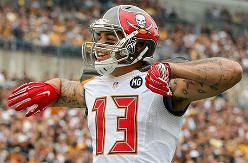 Today was eerily similar to last year, in that 2014 first round pick Mike Evans pulled a hamstring very early in OTAs and was limited until training camp.
Today, in the first open-to-media session of OTAs, Evans again had what Bucs coach Lovie Smith called a "tweak" of his right leg. Lovie seemed to be about as worried about Evans' leg as he is the price of tea in China. When asked about Evans' leg and how he injured a hamstring early in OTAs last year, Lovie responded, "How did he do last year?"
Evans damned near won "Rookie of the Year," as he collected over 1,000 yards receiving and was voted by NFL players as one of the Top 100 in the league.
Evans injured his leg cutting across the middle, wide open, and dropped a Mike Glennon offering about 20 yards downfield that hit Evans right in the hands.
Joe could hear Evans grunt loudly from the sidelines and initially thought he was just upset that he dropped the pass, but apparently he did something to his right leg at the same time.
Evans was seen, however, quickly running off the field at the conclusion of practice.